Recruitment
Bureau Fris has 13 years of experience in guiding market research. Thanks to short communication lines with a permanent account manager, the collaboration with Bureau Fris is always efficient.
Recruitment is one of the services that Bureau Fris offers
Recruitment at Bureau Fris means that we do everything we can to organize the right respondents in an investigation. Thanks to innovative tools and our personal approach, we can select specialized specialists in our database with 30,000 respondents.
---
Our recruitment team
We close all our projects with an evaluation to keep our file Fresh.
Specialist respondents such as; catering staff, teachers, entrepreneurs, ICT professionals, HR managers
Recruitment of customer lists
Cold calling via Chamber of Commerce files or searching on the internet
Recruitment on the streets throughout the Netherlands
Organize Hot Leads
USP's Recruitment
You can also contact Bureau Fris for:
Fast, flexible and efficient
Full-time working account managers
Short communication lines with a fixed contact person
Effective evaluations to keep the file fresh
13 years of experience with market research
Open and transparent communication
Our method
We always work with a fixed method. The following diagram shows which steps we take.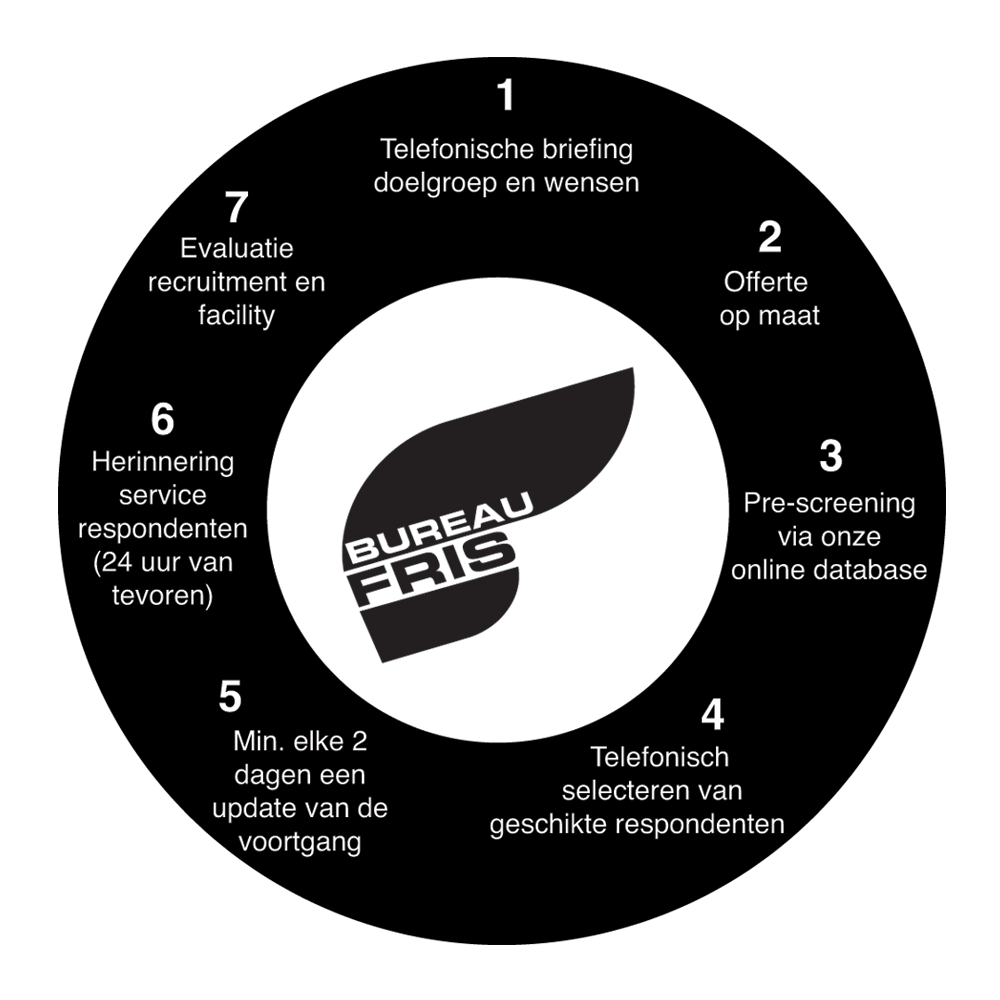 ---
Extensive database
Our own database of respondents, spread throughout the Netherlands and Belgium, includes:
Consumers from 5 to 80 years
Different family situations
40% less educated and 60% higher educated
60% women and 40% men
Business file (independent entrepreneurs, SMEs and freelancers)
Medical file (healthcare professionals and patients) < li>
How do we get our respondents?
The database of Bureau Fris now consists of no less than 30,000 respondents, thanks to:
Monthly flyer actions on the streets in different cities
Sponsorship of sports clubs, film festivals and charities
Actions and ads on social media
Advertisements in newspapers, newspapers and magazines
Targeted visits, such as child-friendly parks, to recruit new mothers
Restaurants and cafes work along with a drink voucher
Snowballing